Christina Crawford
October 2020
Where did you grow up and what did you grow up eating?


I was born in a small town in Montana with no street signs or stoplights. My dad a gallery and was a chainsaw sculpture artist as well as logger. At some point after my parents had my brother, they decided that they wanted to go back to where where my mother grew up so we moved to southeast Portland. The area I grew up in was very low-income and also it was before Portland became hip and a creative mecca, it was very blue-collar. I had kind of an eccentric food childhood because we were raised Kosher.


Yeah so it was incredibly thrifty and healthy. My dad was a hunter, I learned how to dress deer early on, and I knew how to breakdown a fish when I was very young. We also ate a lot of cold tofu; we couldn't have any soda pop or sugar, absolutely no cereal. But we did have a lot of venison steaks, which meant no friends wanted to come over for dinner! There was no pepperoni pizza or anything like that. We always had a freezer filled with whole cow parts wrapped in butcher paper from local farms, there was no blood in your food, and it had to be cooked all the way through. Yeah kind of weird. I didn't realize it wasn't a traditional house for a long time.


When did you stop eating kosher or do you still eat kosher?


No. I learned how to cook un-kosher food when I started working in restaurants. The first lobster I ever had was in Martha's Vineyard as a private chef for an event and they thought it was just out of control that I'd never eaten one let alone prepared it before. In restaurants in California, mostly San Francisco, is where I learned to cook things like Dungeness crab, use pork fat and other flavorful luxurious items. They were introduced to me in a way I had never considered. I started cooking professionally around 2007 but had been working in restaurants since I was 15.


I transitioned from the front-of-the-house to the back-of-the-house. I worked as a cashier in a restaurant in Portland that was an old-school steak-house with pictures of George Bush and the family on the walls, waitresses in pantyhose and ruffle aprons, smoking inside – that kind of thing. When I was 18 I moved to Santa Barbara and worked at my first fine dining restaurant; I lied about my qualifications. I didn't know the difference between a martini and a Manhattan, did not know the difference between tonic and sparkling water. I just failed a lot and was lucky that no one else wanted the job.


What was the restaurant called?


Blue Agave, it closed a couple years ago. The owner was German and had traditional European standards for table service, white table cloths and you never took anyone's plate away until the entire table was totally finished; a real sense of being there to make the dining experience special for the patron. That was exciting for me, getting to learn so much but also getting to share my experience, guiding people through a menu that was seasonal, which I had never experienced.


So how did you decide to move to Santa Barbara? Was it just for the job?


I was working at Trader Joe's in Portland and my boss told me I'd love Santa Barbara and that I'd get a $5 raise because it was so expensive to live there. I drove down there, didn't know anyone, lived in my car for a week waiting for my apartment to open up. I loved it; this magical paradise coming from grey and rainy Portland where the sun was up at 7 am, and it was more culturally diverse than Portland.


So then where did you go after that?


I kind of jumped around. I went back to Portland for a bit and then went to San Francisco. My first cooking job in SF was a job making jams for a restaurant. The chef would say, "Make a mostarda" and then I would Google it and figure it out. One day a line cook didn't show up and the chef asked me to try me working at the salad station. I did and never went back; I worked in kitchens from then on. That was around when the recession hit so it was hard to find a job, which made the position feel special. I worked with the most incredible people who are still my friends. That restaurant, Serpentine, just closed because of Covid.


After that I jumped around a bit but while interning at Chez Panisse on Mondays for six months. I kept my other jobs working as a brunch chef at this one place, helping Danny Bowien open Mission Chinese and part time filled in at Chez when they needed me. Chez is a mecca of the most talented and creative people around cooking with the best ingredients you can find. Like the olive oil you use to clean the cast iron skillets with, it is more expensive than what I can afford at my house. It was also really supportive. There was always someone around to give you feedback on ideas, you were part of all menu meetings, your opinion mattered. Restaurants can be so toxic and hard but at Chez Panisse I always felt included. Also if you worked downstairs, which I did, there was a break every day between the two services where everyone would sit down and eat dinner together, and that's almost unheard of at any other restaurant.


It fostered a lot of relationships in food that I lean on and it felt like a more emotionally balanced position to be there. It's a really unique place. I don't think many places exist like that anymore.


How long did you work there?


On and off for a couple years. That was around 10 years ago. When I go in 40 percent of the people I worked with are still there. Everyone kind of rotates in and out of that place. I didn't necessarily feel like I belonged there but I think that's part of the culture there – it invites a lot of different kinds of people.


She is. She's someone that I admired from afar for a long time. She'd stopped working at the restaurant years before a lot of us but was always doing things at Bar Tartine or Tartine Bakery. But I would volunteer to work when she did the Chez Panisse farm dinners or anything like that; I just wanted to be in her arena of knowledge and joy and laughter. She is the real deal. You know cooking isn't that hard – you can make someone a box of mac'n'cheese and because you made it for them it feels special. But when you start getting into food elitism you see two different kinds of people. But she doesn't get into that elitist food stuff and I appreciate her warmth about food and community and not just the food. In some ways I think the food is one of the least important things, it's about how you communicate with people, how you fold them in and let them feel welcomed and never alienated.


Yeah, wow that is so inspiring.


I was actually shocked when she shouted me out on her podcast, she's a good supporter. She'll always pay for products; she doesn't ask for things for free. So when she mentioned Tart on the podcast she just said guess what? I talked about your vinegar on the podcast!


I want to know how you started your business! And how you decided where to source ingredients from and choose your flavors?


So I was opening a restaurant in San Francisco. I was supposed to be the chef and a friend of mine was going to run the front of the house. The idea was a market with to-go things and a café. I made a menu for that, we worked on the plans for a year and we ran out of money so it never opened. I was devastated! I ended up applying for this job in Kenya for this company called Dormans, a coffee exporting company that owned a bunch of cafes and they were rebranding all the cafes. So I sent them my menu for the restaurant that never opened, got the job and ended up staying in Kenya for a couple years. That's where I met my son's father and where I learned a lot about sourcing everything locally in even a smaller capacity. I worked with farmers to grow things that weren't traditionally grown in Kenya but also sourcing traditional cooking methods local to Kenya. It was incredible; it changed my perspective about how to work in a restaurant and patience. It taught me to look at food as a vessel and not a reflection of your value or worth. You know working 14-hour days is actually not good for you.
And this idea of working as hard as possible THAT becoming the indication of a person's value, was not as present there at all – they didn't care about that. A lot of places in Europe are similar; they take a lot of breaks and have teatime. If the menu doesn't get printed, they don't run that food and it's fine, nothing happens. I moved back to the US after that with the shifted mindset about working and food and took a job at the Criterion Collection in New York City as the Minister of Culture.
It's so weird I know; proof titles mean nothing. But that said, I got to build a kitchen in their office and the idea was the company would be run like a house and like a family, from the kitchen! We created this program of how to host people. We didn't order expensive food from a catering company; we would have a tomato soup and focaccia that was made that morning. I got to sit with all the filmmakers and do these interesting kitchen conversations that were all recorded.


Oh my god that sounds so special!


Yeah it was, you know my son had his second birthday there. I would take him to the office when his school was cancelled. I once had to cook a dinner for Wim Wenders and he kind of babysat my son while I put together a fire outside. It was cool. I don't regret that time at all. But I got to a point where it just felt so cozy, I wasn't learning anything new, I wasn't exploring myself at all anymore. I felt like I could stay there forever but didn't know what that meant for myself creatively. I started feeling a little limited.


That's a good realization to have.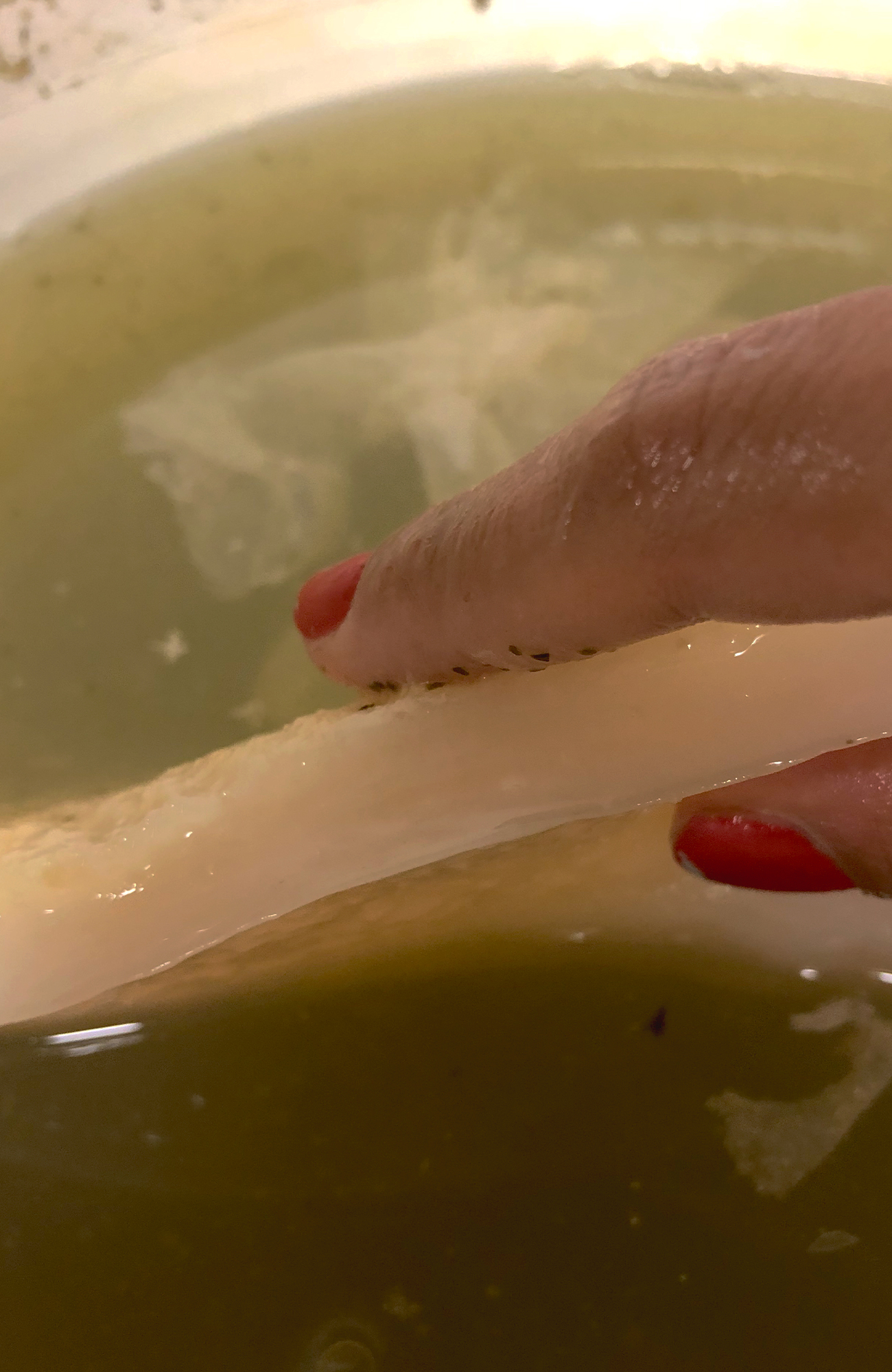 I had been making vinegar at that point and my son's father is a microbiologist and food safety scientist. So basically I had this expert on the other side of my experience who was driven by pH whereas I was driven by sourcing ingredients. I was always so confused why we couldn't get the vinegars here that you can get all over the old world. We only have limited brands and flavors. And you can pretty much ferment anything. Like I could cut down a pine tree and ferment the pine needles. So I did a lot of trial and error looking for what ingredients to showcase that have brightness to it and make your body feel good. Like when you eat a meal you should feel satisfied hunger-wise but you should also feel like the food is processing through your body correctly and you should just feel better! Our gut flora is connected to our happiness and fermented products are a helpful part of feeling good. So in doing the research for my business I learned so much about the ways in which fermented products are digested as opposed to raw ingredients – raw food is amazing but you get more of the good stuff out of fermented food.


So how did you decide on celery for your vinegar?


I always thought of it as an underrated thing. People use it in soup stocks and other things just as a basic un-elevated ingredient. But there was a period of time where celery was the same price as caviar! It was even harder to grow and was a delicacy.


So where do you source your celery?




I work with all local farms and just recently started working with a farm named Campo Rosso based in Pennsylvania. The season is not long and requires a lot of water and nutrient dense soil, right now I am trying to buy as much as I can. I also make a preserved lemon paste and good lemons are hard to source because I want them to be organic and not waxed. This fall and winter I will work with a farmer from New Orleans who grows organic Meyer Lemons and needs someone to buy a lot of lemons because so many restaurants are unable to support her. For the lavender vinegar I buy organic lavender flowers – I don't put organic on the bottle because I feel like it should be assumed in a way. I don't want to seem like it's better than other things because when I worked in coffee I learned that organic doesn't always mean better. Some farms can only certify organically if they're big enough and sometimes I use ingredients from my friend's yard. I don't want my source locations and decisions to affect me being able to call my product organic or not just because something isn't certified.
I'm curious how you knew how to start a business. How much research did you have to do on that front?


Oh my god I had no idea how to start a business. I used to just make vinegar and give it away to friends. It took me a long time feel confident enough to charge money for it; I called it my "very expensive hobby." I just had to bite the bullet though and make decisions I was comfortable being wrong with and adjust later. My friends told me I had to be on social media, which doesn't come naturally to me. I started an Instagram account. I will say, it's really rewarding. I get a lot of people who reach out about ideas and how they used it and it feels nice. I asked an artist friend, Rob Moss Wilson, to make me a label, I made the difficult decision to quit my job and lived off my savings for a while. I would take catering gigs here and there and regularly at the MOMA but was still able to focus on building my business and make a website. I had to learn how to set up wholesale accounts which has been a huge thing, being very thoughtful about who and where I sell it. I want to be somewhere that feels authentic, somewhere that treats their employees well – somewhere that has an ecosystem that's valuable to me. I've said no to some people, which feels like a privilege. It's just me so I can fully make all the decisions.
You don't have any assistants or anything?


Not a single person, I couldn't be smaller.


My brother has recently started coming to help me bottle on the weekends because it's physically a lot and I was trying to get a lot done before my kid's school started; I've been working till 2 in the morning bottling vinegar. I wanted to hire someone but it's not safe right now for anyone. I'm a business that can't grow so I'm working on perfecting the things I'm doing daily.


Wow so are you able to live off of your business right now? Is it scary or stressful at all?


Yes I'm able to pay my rent at home and for my factory and buy bottles when I need, but it took about six months to get to this point.


That's not actually that long.


No it's not. Before that I was living off my savings, my credit card number is not handsome. I find it rewarding right now, I feel lucky. I signed my lease on March 1st and then the pandemic hit which was so shocking for all of us, but what were my other options? I got to the point where I'd rather run with my business and fail rather than move on wondering what it could have been.


And now it seems like you're doing pretty great because everyone is at home cooking!


Yeah cooking at home has helped but also because all my friends have these markets now. I'm in Hart's market, which is an amazing market out of the restaurant in Brooklyn; it gives me the feeling of still working with my peers. And in LA I'm at Cookbook, which was a big thing for my business. I'm grateful for that. I'm also at Kismet in LA. It feels like a community of people who've never met because none of us can be in the same area.
Yeah that's a thing about moving away from working in restaurants is that you lose the community of working with people which is sad. Learning the skills from that kind of setting is important, but the people are what keep you going.


Totally, because if you don't show up you're letting people down. So there's this bond between line cooks that feels incredibly deep, like siblings. You fight but then you get up the next day and start all over and you're always striving to make improvements. But it's been hard watching how the restaurants are being affected by the pandemic.


I'm terrified that it's going to become a world of Shake Shacks and commercially backed restaurants. There's no more romance in it in a weird way.


I mean the thing that gives me hope is that even if the restaurants have to close, the chefs are still around and still have ideas. You know pop-ups are possible without a restaurant. So that gives me hope, because it is hard to watch what's happening.


What's been interesting is that for the first time in years my friends aren't having to work 80 hours a week and they say "I don't ever want to go back to that." There's a sense of, let's burn it all down because it wasn't working for us, it wasn't working for any of the dishwashers, and it was highlighting a toxic imbalance. And working in an office after working in restaurants was a real adjustment. It took me a while to realize I could call in sick one day and I'd just get a bunch of emails saying, "get well soon!" instead of upsetting my coworkers and boss. And having paid two weeks off for the holidays was a total shock, or having insurance that works! Once you start to see your quality of life shift you can't go back. The model needs to be more sustainable instead of being cheap labor for the benefit of an owner. I don't align with that philosophy at all.


So you have a son! How's it been working as a mom during the pandemic?


I was one of those people that felt lucky at first to have so much time at home with him. He was only in first grade so he was learning how to read and do math, things I can still help him with. But it's hard not having our friends, it's hard not having dinner with people; it just feels like another world at this point, and he's social too so he misses his friends. But then there was also explaining the protests to him and having important conversations with him and thinking about his trajectory in this world and who he is. So it came at the time it needed to but damn it took a long time to get here.


What does he think of everything going on?


He's been around grown-ups most of his life so he gets talked to like a grown-up sometimes and he's already learned to adjust to a lot of things. He lives between two homes, he's very flexible so he doesn't see it as all these things changing around him, he sees is as a bit of an evolution. So it didn't feel as earth shattering that he couldn't go back to school this fall, he was happy to stay home. And of course so much is happening around us but we have to remind ourselves that there are little miracles in healthy happy kids and that when we are able to connect, that it feels different and good.


So what has inspired you in the food community in New York during the pandemic?


I think Natasha Pickowicz is one of the most inspiring people here. There's an authenticity to her that feels very genuine; she wants to make things and be part of a community. Her bake sales for Planned Parenthood have been remarkable. She's been writing about the demise of the restaurant in a way where you can palpably feel her anger but also her sadness. She's experiencing things in real time and sharing in a vulnerable way. I was connected with this chef Tara Thomas who is of the generation after me who didn't have to sacrifice her 20's in restaurant kitchens and she is killing it. She works with Phoenix Community Garden that I've been collaborating with to make crimson clover vinegar from their crop. They also do a lot of elder CSA boxes and a $15 CSA box every Saturday and it's filled with at least $40 worth of food – they always have a line around the block on Saturdays. It'd be nice to see more things transpire.
I think they will, there are things like that happening in LA for sure. So do you have any special flavors planned for the fall?


Yeah, I'm working with a farm near Syracuse that grows tart cherries I got before the end of the season. I'm also going to start a subscription, so you'll get two smaller bottles a month. It'll be the one-year anniversary of starting the business so I want to do something special.


That's exciting! Well my last question: Do you have any advice for a young chef who is out of work and still dreaming? It's hard to think of cooking as a livelihood with what's happening in the food industry right now.


Well that's what's special. You can invent a new way to live; the rules are being questioned. I'd say reaching out to people who you want to connect with who you admire, that's what I did. I just bothered people, like when my internship at Chez Panisse ended I just kept going and then you just become indispensable. At least not right now, but travelling to cook. Cooking outside of the US is so valuable and putting yourself in uncomfortable positions where you don't know the answer and have to figure it out! Also read How to Cook a Wolf by M.F.K Fisher. Any time you feel heavy or low, her book feels like adrenaline and especially right now that book will resonate because it's all about cooking through times of distress.








All images were provided by Christina, except for the scanned Flat Iron Menu which was sourced from Repast: Dining Out at the Dawn of the New American Century, 1900-1910.