Where are you from? Can you tell me about the food you ate growing up?



I was born in New Jersey. My mother was born in Jamaica and my father was born in Trinidad; I'm a first generation Caribbean-American. On Sundays we would have ackee and saltfish or callaloo and saltfish, fried dumplings, fried bake. And during the week we'd have different Caribbean meals – Chicken, rice and peas, plantains. But I first learned how to make was American breakfast like fried eggs, pancakes, bacon which I got really into.


Was Sunday a day when you had a big family meal together?


Yah it was the time when everyone was able to be together; Sundays at my grandma's were huge. We'd have two proteins, rice and peas, callaloo, different vegetables, probably a fish that my uncle caught that week. We'd all just gather, sit down and eat.


So how did you get into cooking?


My dad is a nurse but he would spend any time he wasn't working, cooking. So we would always be in the kitchen – that's where I felt most comfortable. I think my dad definitely inspired us both – my sister's a chef as well.


Yah she's Chef Ari in Miami and she does pop-ups as well.
Yah, so we both kind of followed his passion because we were always in the kitchen with him. I realized I wanted to pursue cooking in high school because I never really ate during school, the food was gross. I'd go home and creatively make something. After doing that for a few years I figured, maybe I could turn this into something else?


I can't believe your sister is also a chef.


Ya, when I say Kit an'Kin is family owned and supported, I really mean it. My other sister is a graphic designer and photographer so she makes all my flyers and takes my photos.
Ya my twin sister,
Jessica Chappe
, is also a photographer and she takes all my photos.
Isn't that so nice to have built in support.


It is. So did you go to cooking school?


Yes, I went to the Culinary Institute of America and got my associates there in culinary arts. But while I was there I realized that I wasn't feeling that curriculum or that way of learning, it made me lose a little passion in cooking which found again with my family. Just seeing them cook and how open they were with telling their stories is where Kit an'Kin started.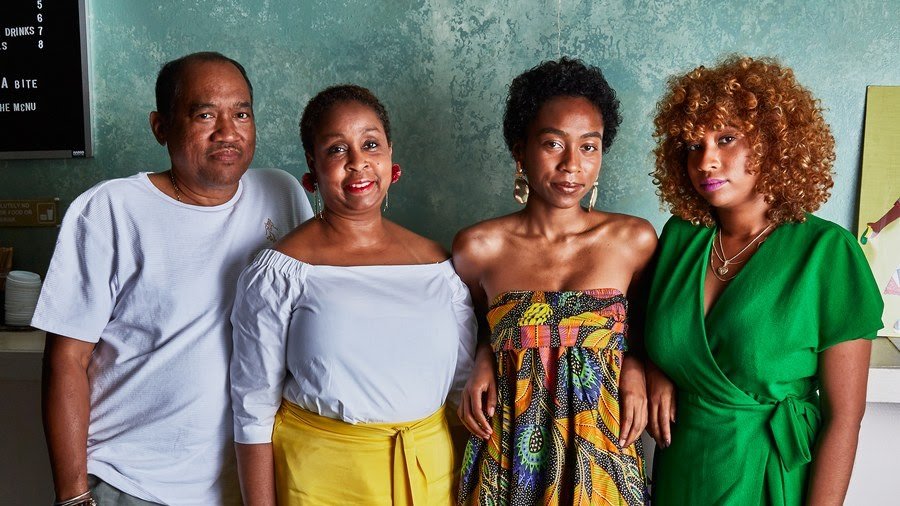 That's really inspiring. I feel like I never meet people who go to culinary school anymore. In the restaurants I've worked in no one has really gone through school to become a cook.


My sister didn't go to culinary school, so we're coming from two different backgrounds but have both learned from our father. When we get together we teach each other so much because she has much more restaurant experience than I do – I basically have none.


Ya, I had to do a four-month stage in San Francisco at this business district restaurant and I was on the line for two weeks. I want to try it again because that was my only experience.


I definitely think it's important but I don't think anyone should force themselves to do it because it is such a high-stress, high-pressure position.


It is! I also feel like it teaches things you wouldn't learn anywhere else. Like I did catering for a year and a half prior to starting this pop-up, and you never really have a kitchen to work out of because you're always in new spaces. One time we worked out of a closet. Once we had to create an oven out of a hot box. So catering teaches you how to be a guerilla chef and I feel like restaurant line work teaches you how to compartmentalize things and work with fluidity and logic.


Yes I agree. So when did you start your pop-up?


Ya, so the catering company I worked for, Harvest and Revel catered for Etsy, corporate lunches and whatnot. So my chef Ora Wise asked me if I wanted to take on that gig because I was the sous chef and I said yes. So I brought my father and my grandma in and asked them "If you were to cook a Caribbean meal for 500 people what would want to do?" So we as a family created the menu and with the guidance and help of Ora and Harvest and Revel, did our first lunch for 500 people.
Ya we just jumped in there.


It was only scary having the lead responsibility because I had already been cooking for these people but under someone else. You always freak out about amounts so that was the scary part. But in all it was fun and my dad loved it; I do a lot of this for him. He spent his life doing the nursing thing and that was for money but his passion is food. So whenever I include him on anything it's amazing. We get to work together and vibe together. He's learning a more professional aspect of cooking and I'm still learning from him. So that's one of the first official events we did as Kit an'Kin.


It went really well! Since then I've been back twice with Harvest and Revel and they continue to really love our food and support us.


So how do you think the form of a pop-up allows for more creativity or freedom than a restaurant or a catering business?


I feel like I haven't yet defined myself as a chef and I guess that's tangential to not having a restaurant. But I feel like a pop-up is more fluid and I'm able to express myself in whatever way feels comfortable and inspiring at that time. Having a pop-up allows you to bend and break and go off to different places as opposed to having a brick and mortar. But at the same time having a pop-up is also limiting to your creativity because you're not able to create dishes that you might have the equipment and capacity for in a restaurant or catering setting.


And pop-ups aren't necessarily the most lucrative thing; I've learned that throughout the years. I have to really figure out and explore what I want to show the world and then what medium works best for that. I started with pop-ups because that's what my friends were doing. It was a quick way to make money on the side and now I'm just trying to real it in figure out if the pop-up model actually the is model. It also might not be a restaurant model. That being said, I recommend people who are starting out to do pop-ups. It's a great way to meet new people, have fun, be in new spaces and learn in that way of building a kitchen from scratch anywhere you go. You can then make money anywhere.


I've done three pop-ups and have definitely learned a lot from them. How often do you do your pop-ups?


It kind of depends, but I try to do one party a month. My pop-ups are called "Feast and Fete." It's a Caribbean party held at Café Erzulie with DJs, a bar, and our food in the backyard. I also guest-chef once a month at certain bars that are open to having that kind of thing in their space, places like Ode to Babel. But end of August-early September is a time when we're very busy; it's a big time in the Caribbean community. There's Carnival, Labor Day Parade, and Calypso & Steelband festivals.
So what does it mean to you to share your cultural heritage with people through your food?


It's kind of like I'm writing my own memoir through my food. I'm hoping one day someone can see Kit 'n'Kin or read about us and be inspired to piece their own history together and be able to explore their family lineage through food. I've been collecting people's stories; while I cook with my family I'm hearing so many different stories and memories about how they grew up, what they used to eat, how to cook things. A lot of times I don't even ask them, they just willingly give this information to me and transfer these skills to me because I'm the only one in the family who is listening.



My cousins aren't interested. Immediately in my family I'd say my parents, sisters, and I are the most food-centric people. So when I reach out to my uncles about how to grill callaloo or what peppers to use, they want to give this information because maybe they haven't been able to give it to their own kids. What I'm trying to show through this project, is that it's possible to connect which is sometimes hard with everyone's different stories because they might not be willing to share. But if you put some food in front of them, they'll sit down with you for a minute or two and tell you their story.



So most of your family cooks?


Yah, almost everyone cooks. I have an aunt that doesn't but she loves to eat so it's like the same thing! I went to visit Trinidad last year and met some more family and family friends that were so excited to be able to share information with me. So I feel like I'm on to something and I don't know what it will all come to yet, but for right now I'm just collecting information.


Do you ever record their stories when you're cooking with your family?


Yeah I have a lot of voice recordings. It's so fun to be able to hear someone's voice, to replay a moment.



I've been working with my friend who is a sound artist. I was recording nature sounds, dog barking – anything I could get in Trinidad to emulate the feeling of my time there and we've been mixing the sound recordings with the story recordings.


I definitely feel like you're onto something special, an oral history food project.



Yeah that's why I haven't labeled myself yet because I don't want to box myself into the "chef" category when there's this other half of the project that's about more than just cooking.


Wow that's so inspiring. I saw that you were featured in Bon Appétit, how has that changed or affected your business?


I have my own opinion about media and whatnot, but the writer Amiel Stanek was able to visit me in Detroit where I was doing a weeklong kind of food trek as a part of Allied Media Conference. My grandma, parents, and sisters flew out to host cooking classes with some of the Brooklyn youth from NEBHDCO. I was also on a panel and we hosted a dinner for 300 people. Amiel got to visit one of the cooking classes and got to experience the magic of this intergenerational cooking class. My father was teaching people how to make pepper sauce and my mother was teaching people how to make fricassee chicken. He was able to witness the essence of what Kit an'Kin is and what I wanted to portray to others so he had a first hand account of that. It was super great to be written up in BA but in terms of outcomes, it mostly just made my family proud. Financially it hasn't really changed anything for us. One thing I did learn from that is that I don't need to say yes to every interview. Since the BA article a few people have hit me up wanting to interview me and I declined because I didn't feel like I was in a place where I had anything to say. I'm still growing and learning, trying to find my place in this industry so I didn't want to fit into someone's 600-word limit and become some click-bait.


Well I'm so glad you said yes to me!


Yah, actually you're my first interview since the BA article. I just felt like I was ready to talk again.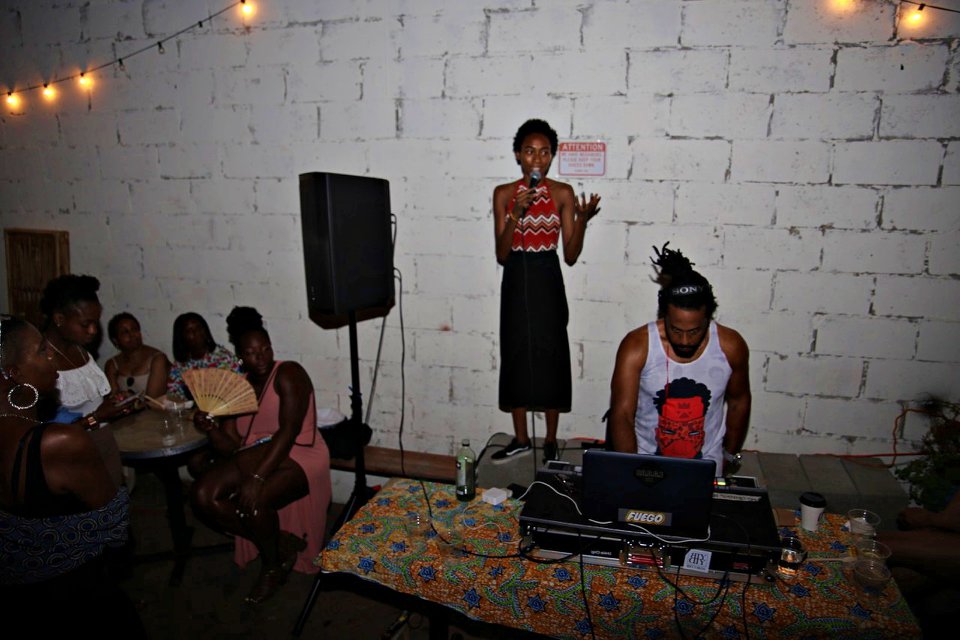 Cool, I feel so special. So I'm curious about your food community in NY. Can you tell me about them or if you have one at all?



Ya totally, it's very special. I was speaking with Stephen Satterfield of Whetstone Magazine who told me when he comes to New York that there's something special about what we've created here in terms of support and being able to ask questions. The community here is really strong and I'm so happy that it continues to grow. Ora Wise is someone I consider to be my mentor. I worked with her from when I graduated college until last year and she's someone I can go to and ask anything. Kim of Food Book Fair is also mad cool and is so available and open to questions. To come out of school and already be a part of something so special and be able to continue my education with all of these people is amazing.


It is so important to have mentors like that. When I graduated from college I assisted a private chef and now I reach out to her pretty frequently with pricing questions.


Ya it's also just knowing your worth and know how to ask for it, which has been hard for me but I'm working on it and the people in my community really help me with that as well.


Do you feel like most of the people in your community are women?


I think a fair amount of them are women ya. Chinchakriya Un of Kreung Cambodia is one of my best friends and we're constantly learning together and working together. There's also Sara Elise who I had also worked for; she's the owner of Harvest and Revel. I also work out of this kitchen Eleven36 with a lot of amazing people. He's not a woman but, DeVonn Francis of Yardy is my fellow Caribbean chef. So we're all working in and out and seeing each other, supporting each other. Practically all of us went down to Detroit for the Allied Media Conference.
Yah there was one night where we all held it down together and did our own respective pop-ups; it really showed how close-knit our New York Community is.


That's so special. How do you feel about the New York food scene right now?


I feel pretty confident; my favorite restaurants are my friends'! I'm also just meeting so many young chefs that are just coming up and I like seeing how what we're all doing is inspiring so many people and that it's replicable, that it's possible.


Do you feel like you're kind of mentoring people?


I wouldn't say I am yet, but a lot of people have reached out to me to ask questions and get my insights on things. I'm always available and open to talk but I'm also always transparent that I'm still learning.


I feel like LA has a really special community but they're kind of underground. I've definitely made a lot of connections through doing these interviews, which I'm really grateful for, but I don't see those people that often.


You don't feel like it's as connected?


I mean I feel like it is because of Instagram, but that's not real life ya know? But it is so helpful for reaching out to people.


Yah I've been trying to do that more this year, using Instagram as a tool to connect to people in the right way – having phone calls like this as opposed to liking and commenting, that's really what it's about.


Yes I agree. So do you have any dishes or recipes right now that you're excited about that you're cooking?


Right now I'm interested in researching how to make my own wine out of tropical fruits.


My uncle called me after getting back from Guyana recently and he got this wine called Jamun wine. Jamun is a fruit in Guyana so it's a similar process to grapes they just do it in the Caribbean. So I want to try fermenting some fruit I can find in Brooklyn.


Do you know much about fermentation?


No I don't which is why I want to do some research and challenge myself to learn something new, a new project.


All of the images on this page were provided by Anya.